Azurea
What is
Very simple Twitter client for Windows Mobile devices.
Features
Simplest interface.
Replies likes tree view.
Very light memory usage. But it is not so recently.
Can scroll views by finger friendly.
Screenshots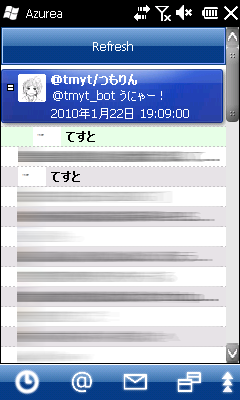 Menubar functions
From the left,
Timeline
Replies
DirectMessages
Other views
Other menu
In Other views show specific User timeline, my Favorites, Following and so on. Detailed explanation is shown below.
| | |
| --- | --- |
| Favorites | Change view to My Favorites |
| Lists | Change view to Lists / Retrieve Lists. |
| Following | Change view to Following. |
| Followers | Change view to Followers. |
| Search | Search timelines by Official search API. |
| User | Change view to UserTimeline. |
| Match | Create regular-expression match view. |
| Close | Clsoe the current showing Search, User and Match view. |
In Other menu turn on/off the Auto reload and so on. Detailed explanation is shown below.
| | |
| --- | --- |
| Auto refresh | Auto refresh the timeline. |
| Enable geotagging | Append geo-tag to Tweet |
| Account config | Show account setting dialog. |
| UI config | Sow user interface setting dialog. |
| OAuth login | Re-retrieve OAuth token when if change user id. |
| API limit status | Show api limit status. |
| About Azurea | Show version information. |
| Exit | Exit Azurea |
Key bindings
F
Add the selected tweet to favorites.
0
R
Reply to selected tweet.
4
T
Retweet the selected post. Default is using retweet api.
5
D
Send direct message to selected tweet sender.
U
Show message area.
P
Scroll the list to top.
7
B
Scroll the list to bottom.
9
Action key
Show message area. / Close the notify, If showed notice message.
Return
Space
Refresh active view.
O
M
Get more tweets, if can uses More button.
1
Change active view to timeline.
2
Change active view to mentions.
3
Change active view to directmessages.
Double tap the item
Show command menu.
Action key - Press & Hold
Right
Expand tree item. If expanded, move to child item.
L
Left
Move to parent item. If expanded, close tree item.
H
Up
Move up.
K
Down
Move down.
J
Others
Can refresh avtive view to double tap the bottom menu.
Tree expand hit test is checking only X cordinate. Left user icon right side.
If showed notice message, when tap the message close it. The message is automatically closeing by 7.5sec.
URL sorten and Send to Twitpic commands in right softkey menu.
Settings
First running inquiry Twitter credentials. Fill in blanks if you needed.

Environments
Windows Mobile 5 lator
Internet connectivity
Download
Stable release
SetupAzurea.1.4.3a.CAB (830KB)
Version history
111130: 1.4.3 release
110713: 1.4.2 release
110708: 1.4.1 release
110708: 1.4.1 release
110704: 1.4.0 release
101116: 1.3.1 release
101014: 1.3.0 release
100613: 1.2.1 release
100602: 1.2.0 release
100405: 1.1.0 release
100223: 1.0.0 release
100128: 0.9 release
100128: pre4 PreAlpha release
100122: Pre2 PreAlpha release
100120: Pre1 PrePreview release
FAQ
Q.Can't send to Twitpic! Error code is -1001!

A.May be entering wrong user id or password.

Q.Failed OAuth authentication!

A.Showed 8 hexadecimal error code. please send the error code to @tmyt.

Q.Can't retrieve timeline! Error code is 400!

A.May be hit to api limitation.

Q.Can't use vibration on Toshiba TG01!

A.Append VibrateId=3 in Sound section to ini file.

Q.Forgot geotagging enabled flag when close app!

A.Did not store for privacy reasons.

Q.I can translate to other language!
Q.How do I tweet????

A.Click Show input area in Context-menu. Context menu shows by Double-tap, tap-hold or Press-hold actionkey in listview. Other ways Press actionkey show Compose form.
Changelog
1.3.1
Fixed gesture recognition around the bar at the bottom
The mouse was to ignore WM_MOUSEMOVE1 th
Up WM_MOUSEMOVE when the mouse is not receive in time when one has to ignore the gestures
Ctrl + W closes the view that to be
support instagram Preview
The corresponding Windows7 WM_GESTURE
The translation to get through a proxy icon
Cdecl and stdcall zlib.dll the PC because there are two types of changes to make use of only version stdcall
English locale fixes
Fixed can not use the shortcut key '*' in Advanced W-ZERO3[es]
Retweet DM Fixed or something or is grayed out
Fix a bug with the timeline is unreadable error during deserialization state saving
id is a value or change it to read from id_str
Fix did not fully comply with the system time format
WM6.5.3 the dialog to be displayed in user-friendly touch
Fixed UI appears to be specified by setting the font color
IME input dialog, the user ID has been disabled
Fixed an issue UserStream two or more threads running
Refresh to update the assignment when you press and hold the clear key operations
GC was to be closed in view
Updated German language file
PC does not fix the problem well when resized version created List
Other views on GW, GO add a menu option
GS was to be called in to search
Fixed a problem when you start does not appear to always display even if the input area
In reply to DM and DM were stopped by to return.
Fixed the text box hook
Enter a search pop-up or WM was able to confirm
/ I filtered to allow a Quick
Add two-stroke shortcut
North to East geotagging not fix the problem
1.3.0
1.2.1
Fixed double-tap recognization on WM6.5 lower.
Add Russian language locale.
Fixed can't open user-timeline from DirectMessage-view.
Fixed problem that fail to load locale file if BOM(Byte Order Mark) appended.
Fixed gesture recognition. (Gesture recognition priority is X>Y. Fixed to compare X,Y distance)
Fixed problem that wrong list height on update invisible child item if full text showing.
Fixed English locale file.
Fixed problem that timeline into wrong view on press 'M' in can't use More button view.
1.2.0
Support HTC Diamond2/TouchPro2's ZoomBar in Picture preview.
Add zoom support in picture preview.
Fix wrong display Follow/Remove menu command.
Fix DLL Hell problem if uses with RSSTicker.
Add shortcut, Press Shift+Up/Down, move to selected user's another post.
Add option, save timeline when application terminating and load it next starts.
Add multi-account support.
Fix occur scroll problem when list item added.
Add option, always show text copmpose area.
Add option, disable unread flag management.
Add option, scroll to head when retrieve timeline if scroll position is in head.
Fix display incorrect GPS status.
Fix move to wrong scroll position problem if scroll postion was downside selected item.
Fix problem occur HTTP 401 error sometimes.
Fix problem, can't hide mainwindow by X button if focused text compose area.
Fix problem, can't send follow request to protected user.
Decrease application allocated memory.
Follow to user icon changing.
Fix problem, can't update status if status message is containing the '~'(Tilde).
Add support, change Refresh/More button and Menubar height by theme file.
Fix problem, can't read the text in text compose area if text color setted to Whlte by system.
Fix problem, contain empty menu item in Users popup menu.
New! Add support retrieve WorldWide trend!
New! Add support open hashtag from popupmenu.
Fix problem, can't send to twitpic.
Fix text compose area background color controling.
Add option, expand text compose area if SIO(Software Input Panel) opened.
Add option, show confirm dialog if application terminating.
Fix problem, sometimes raise exception when showing message-box if text compose area opened.
Fix problem, sometimes draw incorrect tree button.
Change internal, never create sub windows if change to favorites,following,followers view.
Decrease chached GDI objects in appliaction.
Add option, don't update Timeline when status updated.
Fix problem, reference ignore memory address if opening tree item.
Fix problem, Tree + button is not to be drawn.
Fix problem, sometimes item height is worng.
Fix time conversion problem if user timezone is using summer time.
Add status's URL to URL copy popup.
Change dpi scaling for scroll beginning distance.
New! Add operation, drag the menubar to upside that open text compose area.
Add feature, open URL with user selected browser.(Require:Edit INI file.)
Add feature, Treat any status for reply by Regex matched if calling not @xxx style.
Improvement application behaivor when press Refresh button.
Fix problem that display item text color by blak when unfavorite.
Fix error message.
Change the user id to @*** when Retweet by NOT using retweet api if retweet protected user.
Change header background color to listview background color matching,
Fix problem that can't read tooltip text if text color is white.
Improvement URL cutoff.
Change to don't add user id when send reply to multi user if user id already added to text compose area.
Add Brazilian Portuguese Language user interface support.
Add Korean Language user interface support.
Don't save password always.(Twitpic is not require password)
Add https URL to URL list.
Add external application linkage support.
Change selection if double tapping.
Add feature that Left to right flick for reply. Right to left flick for favorite.
Fix problem that changable dialog size in picture preview.
Add translation function.
Add More button in search result.
Don't add footer text on reply and retweet.
1.0.0
Developed by
I found bugs!
Please send to @tmyt!